My hubby is British and I'm Canadian. It's always a pleasant five minutes or so when we meet someone new and explain how we met. It goes something like this.

When I graduated high school my dearest wish was to get as far away from home as possible. I only applied to overseas universities. I was accepted at a couple of places but I chose a smallish university in the South West of London.

Well after arriving, with my three four foot tall bags (enough stuff for three years) I soon discovered that my program was a joke. It was so simple that I could finish all my work in about two hours and that left me with an enormous amount of time to fill. So I spent most of my time looking up interesting places to go look at and take photos of.

One day I'm wandering around Hammersmith when I realize that I have absolutely no idea where I am or how to get where I want to go. After walking morosely back and forth along this one street a couple times, this lovely gentleman sitting in a cafe decides to take pity on me and ask me if I'm lost. "Yes" I mumble, while staring intently at my shoes. I glance up and give him, what I hope is an endearing smile. I tell him where I mean to be, and he gives me directions which I gratefully take with blind faith.

Nearly half an hour later I find myself not at the museum that I want to be, but at a pub. And who is there, but that very same gentleman. He introduces himself. He invites me in for a drink. I agree to a drink. One turns into a couple. I stupidly accept a ride from him and a mate (I mean he could have been an axe murderer!)

The next couple of weeks are spent talking to, writing to or being in his company. I went away for a week at Christmas to Scotland and when I came back he had a £400.00 cell phone bill.

Fast forward a little over a month and its New Years Eve. We are at a party at that very same pub watching one of his friends play in a band. It is a wonderful night surrounded by friends. At midnight I'm thrilling a little over the fact that I'll actually have someone to kiss and turn to lay one on him only to find him on his knees with a ring in his hand.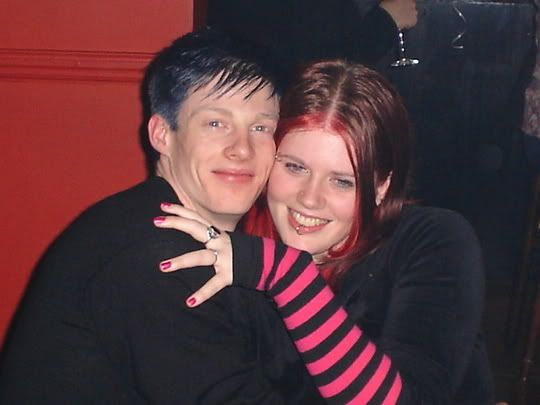 Fast forward again to five months on and we are married. Our ceremony is presided over by his aunt and our reception is held at that very same pub once again.
And that is the condensed version of my whirlwind romance and how I met my husband.

One day I'll write the longer version, including that how on our first date I actually fancied his friend more than him and other secrets.